History of the Southern Christian Leadership Conference
The very beginnings of the SCLC can be traced back to the Montgomery Bus Boycott. The boycott was carried out by the newly established Montgomery Improvement Association (MIA). Martin Luther King, Jr. served as President and Ralph David Abernathy served as Program Director. As bus boycotts spread across the South, leaders of the MIA and other protest groups met in Atlanta on January 10 – 11, 1957, to form a regional organization and coordinate protest activities across the South. 60 persons from 10 states assembled and announced the founding of the Southern Leadership Conference on Transportation and Nonviolent Integration. Further organizing was done at a meeting in New Orleans, Louisiana on February 14, 1957. The organization shortened its name to Southern Leadership Conference, established an Executive Board of Directors, and elected officers, including Dr. Martin Luther King, Jr. as President, Dr. Ralph David Abernathy as Financial Secretary-Treasurer, Rev. C. K. Steele of Tallahassee, Florida as Vice President, Rev. T. J. Jemison of Baton Rouge, Louisiana as Secretary, and Attorney I. M. Augustine of New Orleans, Louisiana as General Counsel. At its first convention in Montgomery in August 1957, the Southern Leadership Conference adopted the current name, the Southern Christian Leadership Conference. Basic decisions made by the founders at these early meeting included the adoption of nonviolent mass action as the cornerstone of strategy, the affiliation of local community organizations with SCLC across the South, and a determination to make the SCLC movement open to all, regardless of race, religion, or background. SCLC is a now a nationwide organization made up of chapters and affiliates with programs that affect the lives of all Americans: north, south, east and west. Its sphere of influence and interests has become international in scope because the human rights movement transcends national boundaries.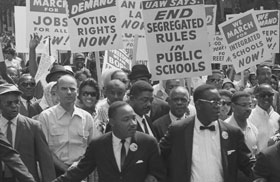 WHO WE ARE
SCLC's focus is to educate youth and adults in the areas of personal responsibility, leadership potential, and community service; to ensure economic justice and civil rights and to eradicate environmental classism and racism wherever it exists.